Paper
The pages are blank on ivory literature paper with a gorgeous texture that feels both classy and modern. The endpaper is 100% recycled and the inner pages are 90gsm thick, ensuring each page remains resistant to ink bleed, erasing and shading.
Cover
Smooth, elegant, sustainably sourced vegan leather available in two different colors: Forest Green and Cinnamon Brown. The cover is soft and resistant with an expandable back pocket, ideal to bring with you on the go.
Design
180° lay-flat binding, achieved by a rigorous in-house handmade book binding process to allow for one-handed note-taking. Comes with a silky ribbon bookmark and an horizontal elastic closure where you can add your customized journal charms.
Stories from our Community
Customer Reviews
10/26/2021
Miriam G.

Portugal
Created with the user in mind
I love my new forest green journal. I often leave journaling because the journals I've had up until now don't feel special. They always assume their inevitable destiny of being work note pads. But Prophsee's journal is different. It feels different. From colors, little messages at the beginning to the quality of paper. I look forward to journaling every morning now. Thank you, team Prophsee!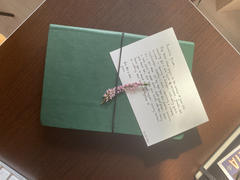 10/20/2021
Andre S.

United States
A must-have for any journaling connoisseur
When my Prophsee Classic journal arrived, it vastly exceeded my expectations. Not only is the quality top notch but it also has some cool features that the average journal does not have, such as a pocket in the back, a bookmark ribbon, and a rubberband that wraps around the cover. I highly recommend getting a charm as well, because it's like the icing on the cake! The charms easily clip on, and create a charming vibe. As cliche as this may sound, a Prophsee journal is more than just a journal. There is also a message behind it. I first discovered Prophsee through Ana Juma's YouTube channel. Her videos are blooming with tranquility and positivity, and I felt a great sense of empathy listening to her views on journaling and why it can be so valuable. Not only was I satisfied with my purchase, but I was even happier that I could support the overall energy and message behind the product.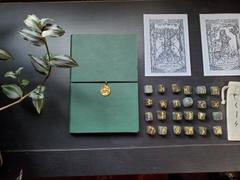 Thank you so much Andre for your review :) Means a lot!
Special
Packaging
Each journal comes wrapped in an acid-free tissue paper inside of a premium cardboard box with a personalized love note. A beautiful gift to a special someone.
Write a Love Note
You may also like
Journal Charms
Handmade brass charms ready to be customized with your name if you wish to. Take a look.
View